---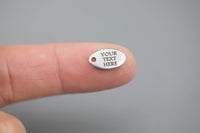 HOW TO ORDER:
File must be in SVG and DXF format.
Please use one of these companies to convert for you:
www.etsy.com/search?q=convert%20svg
or search for any SVG conversion items in Etsy.
Material: Stainless Steel, Hypoallergenic
Size: 14mm
Please send SVG files to beadboathelp@gmail.com
REGULAR UNPOLISHED: scratches are less visible, good for both bracelets and necklaces
POLISHED: better for necklaces
Sizes for all items is an approximation.